Herbin Ice Systems is one of the biggest flake ice evaporators manufacturer in China.
We manufacture and sell flake ice evaporators to other Chinese ice machine companies and to overseas market.
60% of Chinese flake ice machines are equipped with our flake ice evaporators.
Our flake ice evaporators are also widely used around the world, such as USA/Mexico/Brazil/Greece/South Africa/ and so on.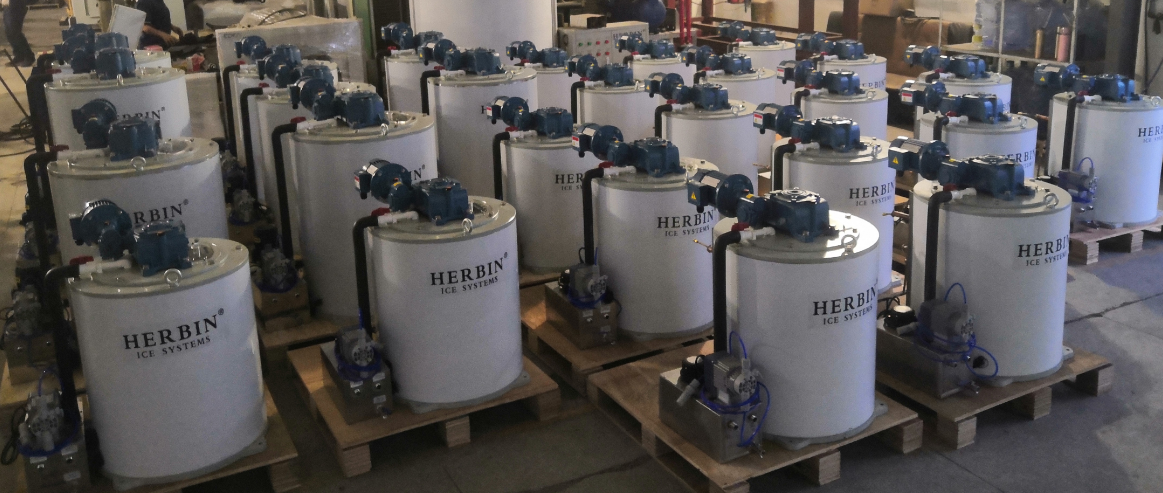 The flake ice evaporators are ready for ice making after simple connecting with refrigeration units, and they are very easy to be used.
Our flake ice evaporators and technical support allow flake ice machines to be made in any country with refrigeration ability.
The flake ice evaporators' capacity range is from 1T/day to 30T/day.
Model

Ice daily

capacity

Refrigerant

capacity

Evaporating temperature

PDF for

full details

HBFE-1T

1T/day

6KW

-22℃

 

HBFE-2T

2T/day

12KW

-22℃

 

HBFE-3T

3T/day

18KW

-22℃

 

HBFE-5T

5T/day

30KW

-22℃

 

HBFE-10T

10T/day

60KW

-22℃

 

HBFE-15T

15T/day

90KW

-22℃

 

HBFE-20T

20T/day

120KW

-22℃

 

HBFE-25T

25T/day

150KW

-22℃

 

HBFE-30T

30T/day

180KW

-22℃

 
We have both freshwater and seawater flake ice evaporators for sale.
Freshwater flake ice evaporators can be made of Chromed carbon steel and stainless steel.
Seawater flake ice evaporators are made of 100% stainless steel 316. All areas in touch with water and ice are made of SUS 316.
Please contact with our sales team, and we will support you to make your own flake ice   machines locally.
Here are videos to show some flake ice evaporators we made before.
---
Previous:
0.6T cube ice machine
Next:
1T flake ice machine
---
Write your message here and send it to us